Meet Midway Monday: Tony Russo Sales Manager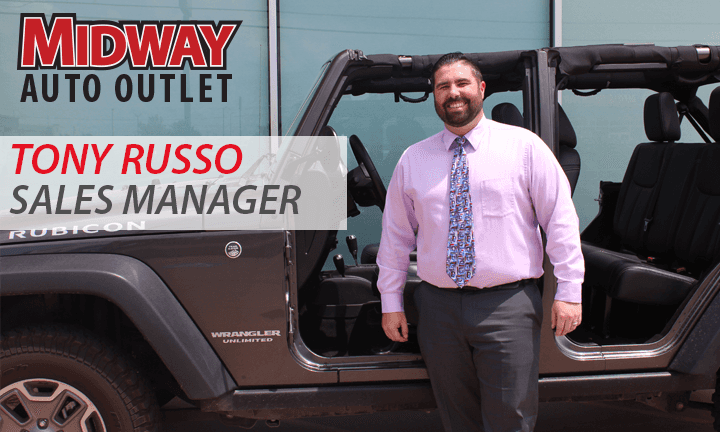 It's #MeetMidwayMonday! Today, we want to introduce you to Tony Russo, Sales Manager at Midway Auto Outlet
Have you worked with Tony? Has he helped you find your next vehicle? We want to hear from you in the comments!
---
Hometown: Dana Point, California. I have been in the Midwest for 8 years now.
Question 1: How long have you worked here? How long in the automotive industry?
Tony: A little over 2 months. I have been in the industry for 16 years all together.
Question 2: What motivates you to work hard?
Tony: To eradicate the negative stigma associated with the car business!
Question 3: What's your favorite vehicle on the lot?
Tony: 2016 Jeep Wrangler Unlimited
Question 4: What makes Midway a great place to shop?
Tony: We take the game right out of it and play with our cards face up with our hassle free pricing. Friendly staff always willing to go above and beyond for our guests!
Question 5: What do you do in your free time?
Tony: I like to Golf, spend time with my Wife, 3 kids and 3 dogs and am a die hard sports fan.
Question 6: What do you like best about working at Midway Outlet?
Tony: I like the team I work with and being able to solve customers vehicle problems on a daily basis. Whether its someones 1st car or the customer who needs a new one because their old one doesn't run anymore, getting to see the smiles on their face is priceless.
Question 7: What makes Midway different from other dealerships in the area?
Tony: The involvement we have in the community is 2nd to none and what you see is what you get with us there are no gimmicks, just good old midwestern hospitality!
Question 8: What is something most people don't know about you?
Tony: I wanted to a professional skateboarder growing up and spent most of my teenage years traveling all of California to the best skate spots in the country and have broken several bones in body doing so.
---
Have you worked with Tony? We want to hear from you in the comments!