Kearney Auto Parts Store
The Midway Auto parts department is one of the best auto parts stores in Kearney. We maintain a comprehensive inventory of high-quality genuine OEM parts, so whether you're in need of a replacement part for your vehicle or you're looking to enhance its performance or optimize the interior, you'll find what you're looking for at our Grand Island area dealership. If you have any questions along the way, our expert staff is always ready to help! Don't see what you're looking for available in our inventory? You're welcome to place an order for GM or CDJR models online – we'll alert you as soon as we receive it.
Why Choose Genuine Parts?
If you are looking to repair your ride or want to take on an upgrade, you may think all auto parts stores are one and the same. While you can find auto parts across Kearney, you will want to avoid aftermarket options. These second-rate accessories may have an attractive sticker price, but they are not a wise purchase. The inexpensive 3rd party parts are cheap in price and quality because they are not held to the same standards as parts from the factory where your automobile was produced.
Another reason why aftermarket parts are more affordable is because they are designed to fit as many models as possible. While that may sound reasonable, what that really means is they do not fit any car well at all. These ill-fitting parts can cause damage and require costly repairs sooner rather than later. The wise choice is to invest in genuine parts and trustworthy service with us. When you opt for OEM parts, you get quality for optimal form and function and peace of mind on every drive.
Schedule Parts Service
Need assistance with the installation process? Schedule an appointment for GM and CDJR vehicles with our expert technicians near Hastings. Our team has the knowledge and experience to get the job done right! Have lingering questions about Midway Auto parts? Don't hesitate to contact us online, give us a call at (888) 330-0761, or pay us a visit near Holdrege. We're always happy to assist!
Midway Chrysler Dodge Jeep Ram
219 2nd Ave
Kearney, NE 68847
Parts:
(888) 615-1736
Sales Hours
Monday – Thurs: 8:00AM – 7:00PM
Friday: 8:00AM – 6:00PM
Saturday: 8:00AM – 5:00PM
Sunday: Closed
Service Hours
Monday – Friday: 7:30AM – 5:30PM
Saturday: 8:00AM – 5:00PM
Sunday: Closed
Parts Hours
Monday – Friday: 7:30AM – 5:30PM
Saturday: 8:00AM – 5:00PM
Sunday: Closed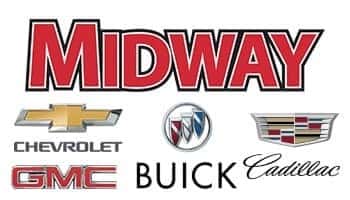 Midway Chevrolet Buick GMC Cadillac
515 2nd Ave E
Kearney NE 68847
Parts:
(866) 800-5977
Sales Hours
Monday – Thurs: 8:00AM – 7:00PM
Friday: 8:00AM – 6:00PM
Saturday: 8:00AM – 5:00PM
Sunday: Closed
Service Hours
Monday – Friday: 7:30AM – 5:30PM
Saturday: 8:00AM – 5:00PM
Sunday: Closed
Parts Hours
Monday – Friday: 7:30AM – 5:30PM
Saturday: 8:00AM – 5:00PM
Sunday: Closed