Meet Midway Monday: Jordan Roberts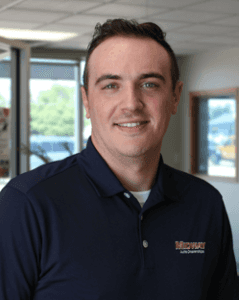 It's #MeetUsMonday! Today, we want to introduce you to Jordan Roberts, Product Specialist at Midway Auto Outlet on Central Avenue in Kearney.
Have you worked with Jordan? Has he helped you purchase a vehicle? We want to hear from you in the comments!
Question 1: How long have you worked here?
Jordan: Almost 3 months
Question 2: What's your favorite vehicle on the lot?
Jordan: Nissan Maxima Platinum
Question 3: What do you do in your free time?
Jordan: Spend time with my amazing wife
Question 4: What do you like best about working at Midway Auto Outlet?
Jordan: Making people happy when they make a purchase
Question 5: The Hassle-Free pricing philosophy is great. How does that help you as a sales consultant?
Jordan: So that I can get a customer into the vehicle they want much easier
Question 6: What is something most people don't know about you?
Jordan: I have a child on they way!
Question 7: In your mind, what makes Midway different from other dealerships in the area?
Jordan: We value and appreciate our customers as people not just a sale
Question 8: What motivates you?
Jordan: My wife,my unborn child, and my family