Meet Midway Monday: John Hanson, Service Guest Relations
It's #MeetMidwayMonday! Today, we want to introduce you to John Hanson, Service Guest Relations at Midway Chevrolet Buick GMC Cadillac on South 2nd Avenue in Kearney. Have you worked with John? Has he helped you service your vehicle? We want to hear from you in the comments!
---
Question 1: How long have you worked at Midway and what do you do? How long have you worked in the automotive industry?
John: I have worked at Midway almost 6 years. Prior to this, I worked at two other dealerships in the small town of Geneva in the past for an additional 5 years. I work in our service department in guest relations.  I do a wide variety of tasks on a daily basis including taking incoming phone calls, scheduling appointments, following up with customers to find out about their experience during their visit, work with the parts department to insure availability of parts for scheduled visits, and email ON-Star notifications to customers who opt for service reminders through ON-Star.  I also spend time proactively notifying customers of important safety recalls that need to be completed.
Question 2: What fuels your day?
J: The perfect customer experience.  I'm motivated to see our customers have the best possible experience with every interaction at Midway.  It is an amazing feeling during follow up calls when a customer is excited about how well they were treated and how great the experience was at Midway.  People have high expectations in customer service.  A good trip isn't enough to get people passionate or become advocates; it must be exceptional. Delivering a truly exceptional experience to every customer really does motivate me to keep coming and trying to do better than we did yesterday.
Question 3: What do you do in your free time?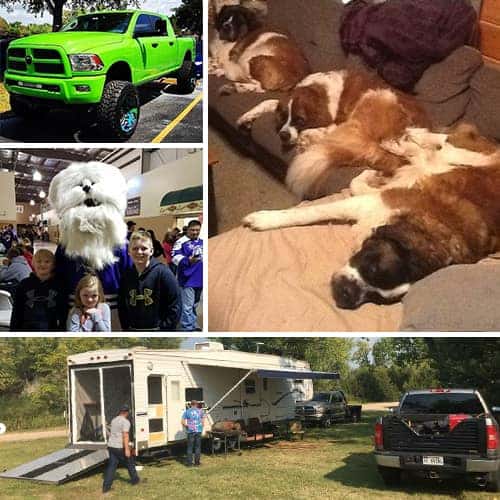 J:
We love to go camping, messing around with our vehicle collection, spending time with our nieces and nephews, and spoiling our St. Bernards rotten.
Question 4:  What's your dream car?
J: A Green Ram Mega Cab
Question 5:  What do you like best about working at Midway?
J: I love our great facility, my co-workers, and that Midway is so customer focused.  I always see management do the right thing when customer concerns or issues need addressed.
Question 6: What makes Midway Service different from other shops in the area?
J: Our great customers!  No one else can say they have our great customers!  And, we have a great group of people all working together to take care of those customers.  Decisions are made on customer impact.  Also, we are lucky to have the greatest facility around.  From our climate controlled drop-off and pick-up area to our very comfortable lounge…. oh, and our cappuccino machine.  Yes, customers love our complimentary self-serve cappuccino machine.  The Vanilla French Mocha seems to be a favorite of many.
Question 7: What is something most people don't know about you?
J: Willa Cather, the famous author, was a relative of mine.
---
Have you worked with John? Has he helped you with your service needs at Midway? Leave your comments and questions below!