Meet Midway Monday: Francisco Borrego, Product Specialist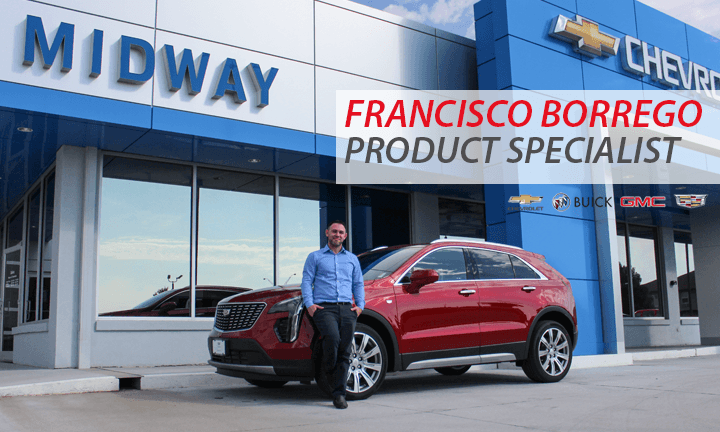 It's #MeetUsMonday! Today, we want to introduce you to Francisco Borrego, Product Specialist at Midway Chevrolet Buick GMC Cadillac on South 2nd Avenue in Kearney.
Have you worked with Francisco? Has he helped you purchase a vehicle? We want to hear from you in the comments!
---
Question 1: How long have you worked at Midway? What do you do?
Francisco: I have actually been working at Midway for 4 months now. And my current position is Product Specialist.
Question 2: What's your favorite vehicle on the lot?
Francisco: My favorite vehicle is the long awaited All NEW Cadillac XT4!
Question 3: What makes Midway a great place to shop?
Francisco: We offer our best prices upfront on all of our vehicles and provide a thorough walkthrough to ensure the owner of the vehicle has a firm understanding on how everything works before taking it home.
Question 4: What do you do in your free time?
Francisco:On my free time I take photos of our inventory and post it onto my business page on Instagram.
Question 5:  What do you like best about working at Midway?
Francisco:The products we sell, the guests I meet, the stories I hear. The whole experience is humbling and rewarding.
Question 6: The Hassle-Free pricing philosophy is great. How does that help you as a sales consultant?
Francisco: Our Hassle free pricing is great because it puts you at ease knowing that we are putting our best price up front to reduce your time spent haggling. 
Question 7: What makes Midway different from other dealerships in the area?
Francisco:They don't have me working for them, hahaha.. but what makes purchasing from Midway great is the personalized attention we give each of our customers. Whether it's taking time to explain the new technology or the fact that we are always a phone call away from assisting you. 
Question 8: What is something most people don't know about you?
Francisco: Most people don't know that I'm expecting a baby boy in 2019. So… SURPRISE!
---
Have you worked with Francisco? Has he helped you find the vehicle of your dreams? Leave your comments and questions below!