Meet Midway Monday: Bob Bartling Collision Center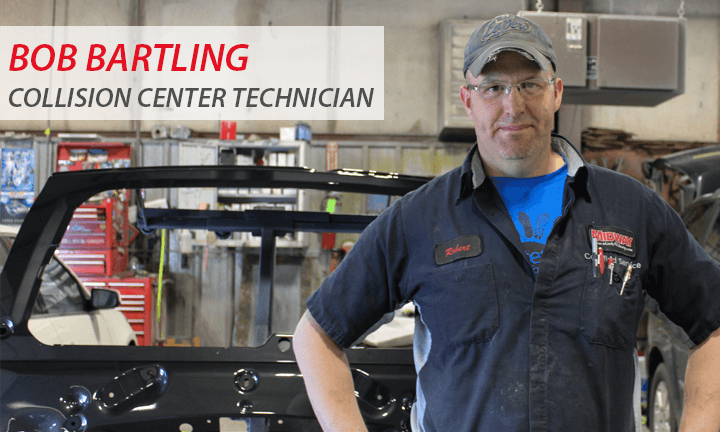 It's #MeetMidwayMonday! Today, we want to introduce you to Bob Bartling, our Collision Center Technician at Midway Auto Dealerships.
---
Question 1: How long have you worked at Midway? What do you do?
Bob: I have worked here since September of 2015 in the Collision Center. My job is to help repair, repaint, and fix wrecked cars.
Question 2: What makes Midway Collision Center the best place for your repair needs?
Bob: We hold ourselves to a high standard of quality repair and between all of us, we have a lot of experience in the collision industry.
Question 3: What sparked your interest in fixing up vehicles?
Bob: My dad was a body shop man so I have been around it all my life. I have always liked cars and fixing things up. I knew I did not want to go to a job where I would have to wear a suite everyday and just wanted to be hands on with my work.
Question 4: How many years total do you have experience with working on vehicles?
Bob: Since 1991 I have been working on vehicles full time so around 27 years.
Question 5: What do you like to do in your free time?
Bob: I have three kids, so spending time with my family and going to their activities is something I really enjoy. My two boys go to UNK and one of them is on the football team and the other is on the track team. My daughter is involved in music so we like to attend her events as well.
Question 6: What makes Midway Collision Center different from other body shops in the area?
Bob: We all have high attention to detail and we hold a high quality standard. A big plus is when your car is in the shop, we lend you a brand new car until yours is fixed.
Question 7: What is something most people don't know about you?
Bob: I do a lot of reupholstery work like repairing car seats in vehicles.