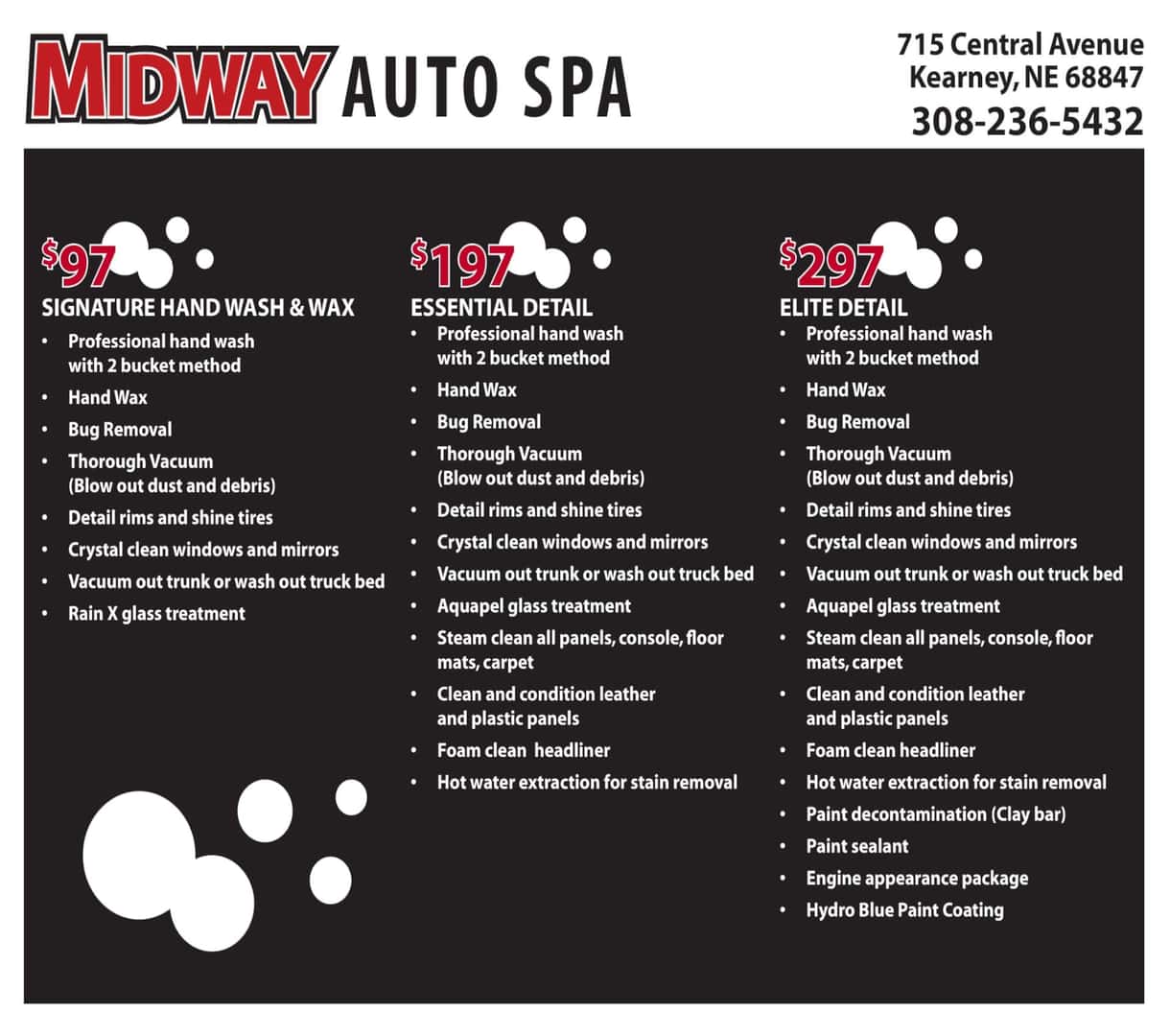 Midway Auto Dealerships Car Detailing Services
Your Chevrolet, Buick, GMC, Chrysler, Dodge, Jeep, Ram car, truck, or SUV needs regular and detailed car washes to perform properly. Luckily, Midway Auto Dealerships offers a variety of exterior and interior car detailing services for drivers trying to keep their vehicles looking spotless for their Grand Island commutes. Find out the best reasons to get a Midway Auto Spa car wash with our highly knowledgeable service experts below!
Best Reasons to Get a Professional Hand Wash at Midway Auto Dealerships
Washing your car by yourself at your Hastings home is always an option. However, if you really want to protect your vehicle's paint job, optimize its fuel efficiency, and reach those deep crevices where dirt and particulate matter like to build up, you should consider visiting Midway Auto Dealerships for professional car detailing services:
Speedy Cleaning: We pride ourselves on providing thorough car cleanings at an affordable price and making sure you're back out on Holdrege roads as soon as possible. You can easily fit a detailed car wash into your busy schedule and keep your vehicle protected from cosmetic damage all at the same time.
Car Washes Protect Paint Jobs: During your Lexington drives, your vehicle is coming into contact with all types of debris: grime, salt, bird droppings, bugs, dirt, and more! These materials can dissolve and destroy the paint and metal on your vehicle's exterior if given enough time. If your car's getting dirty, then it's simply time to get a car wash.
Improve Overall Fuel Economy: Regular car washes are guaranteed to optimize your vehicle's overall fuel efficiency. Dirt build-up, especially on your tires, can increase drag causing you to use more fuel. A detailed car wash allows for more air to move smoothly across the surface and bottom of your vehicle.
Avoid Depreciation: Routine car washes help maintain the appearance general resale value of your Chevrolet, Buick, GMC, Chrysler, Dodge, Jeep, Ram model as well. When you're in the market for an updated version of your current vehicle, you'll want to ensure that your car looks good enough to sell for a high price. Exterior and interior car detailing can help you do just that.
Get Your Car Washed at Midway Auto Dealerships Today!
If you're ready to treat yourself to premium car detailing services and turn heads on Kearney roads, we invite you to visit our Midway Auto Spa for a high-end hand wash. However, once you've received your car wash, your car maintenance doesn't have to end there – we provide all of our Midway Auto Dealerships customers with car service tips, such as how to check your transmission fluid. If you have any questions about our interior car detailing services or what you can expect from our dealership, don't hesitate to contact us today!